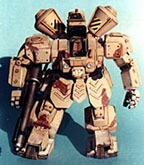 Image: Kodiak and Interior Set,
built by Jay Adan.
Kodiak Heavy Gear. Jumping off the pages and computer monitors of Dream Pod 9's Heavy Gear® universe, the Kodiak is the first large scale kit offering based on this popular background. The Kodiak is the strongest mech in the arsenal of the Northern Lights Confederacy - one of the main factions of the distant colony world of Terra Nova. While the Kodiak is not great in numbers, their presence is a tremendous morale boost to troops that serve with them, due to their awesome punch.
This 1/35th scale kit is made by Dream Pod 9's sister company, Fusion Models (see Fusion Models Interview, below). In addition to the basic kit, they currently offer three different detail sets for this beast. They've promised that this is the first of at least two kits in the Heavy Gear® resin kit line. Most who have seen this kit would agree that it's one of the finest produced resin kits, around - as well as just being a brutishly cool looking design. The kit can be purchased either direct from Fusion, or through Tangents.