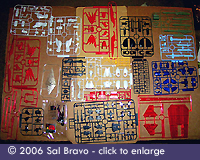 ^ What you get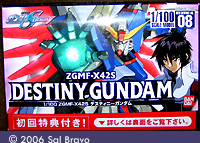 Image: Boxart, front

Image: Back

Image: Beefier box

Image: Color/detail guide

Image: Instructions booklet cover

Image: Instructions, back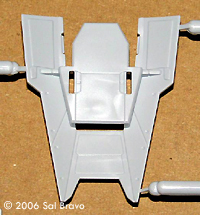 ^ Parts detail

Image: Leg armor detail

Image: More detail

Image: Torso detail

Image: Open hand

Image: Energy shield

Image: Stand

Image: Stickers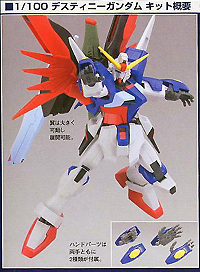 In 2002, Bandai attracted a new generation of Gundam fans with the premiere of Mobile Suit Gundam SEED. In October 2004, Bandai premiered a sequel to Gundam SEED (a first when it comes to TV anime series): Mobile Suit Gundam SEED DESTINY.
MS Gundam SEED DESTINY is set on C.E. (Cosmic Era) 73, two years after the end of the Earth-ZAFT war and the signing of a peace treaty on C.E. 71. Although at peace, each side continued with the development of new mobile suits. The fragile peace is shattered when three Earth Alliance operatives steal three of ZAFT's newest model Gundams. It would be the first of a series of events that would plunge the world into another war.
Several characters from the original Gundam SEED are featured but the main character is a ZAFT top gun named Shinn Asuka, a 16-year-old Coordinator who joined ZAFT (Zodiac Alliance of Freedom Treaty) after his family was violently killed (right next to him) during the invasion of Orb in C.E. 71 by a stray beam shot between the battling mobile suits. Shinn starts the series as the pilot of the Impulse Gundam and is later is assigned to the ZGMF-X42S Destiny Gundam by PLANT's (Productive Location Allied Nexus of Technology) Supreme Council Chairman. The Destiny's design incorporates Shinn's piloting data recorded from the Impulse, so it was basically tailor-made for him.
The Destiny Gundam's power easily eclipses the Impulse Gundam and it is ZAFT's newest, most advanced and powerful general-purpose mobile suit. The Destiny is powered by a "hyper-deuterium" reactor, which is a nuclear reactor that incorporates a derivative of deuterium-beam technology (used on the Impulse Gundam) for currently unknown purposes.
Designed to handle just about any combat situation by itself with its superior speed and firepower, the Destiny's armament includes the standard high-energy beam rifle and head-mounted 17.5mm CIWS, a folded anti-ship Arondight beam sword and a folded M2000GX high-energy long-range beam cannon (both mounted behind the right and left shoulder, respectively), a pair of shoulder-mounted Flash Edge II beam boomerangs that can double as beam sabers, Palma Fiocina palm-mounted beam cannons on each hand for close range attacks, a pair of Solidus Fulgur beam-shield generators on its wrists, and "Hikari no Tsubasa" ("Wings of Light") beam wings which are used as a propulsion system that allow the Destiny to move at very high speeds, and together with Mirage Colloid technology, it allows the Destiny to leave a trail of visible after-images that confuse enemy sensors.
What You Get
Considering this is not a Master Grade kit, Bandai's gone all out on this one. The box is almost 2 inches deeper than previous releases (probably to contain the 180+ parts it has) and it has glossy artwork both front and back. Never seen that on any previous High Grade or Master Grade kits. In the bling'd-out box you'll find 14 sprues full of parts molded in color, a sprue of polycaps, a clear plastic "character plate" with images/statistical info on Shinn Asuka and Stellar Loussier (one of Shinn's first love interests in the series), the instructions booklet, and a small sheet of self-adhesive stickers.
There is no visible flash on the parts, with crisp and above average detail for non Master Grade kit. The kit features snap-fit assembly, fully movable joints, multiple hands, expandable wings, a removable weapons rack and all weapons including the fold able sword and beam cannon, beam boomerangs, beam shield, regular shield and beam rifle. In addition of being a very poseable model, 2 gimmicks were added: an in-flight clear stand (again, something you rarely on MG kits, much less on a non-MG kit), and a second "pelvis" with hips joints set in a different position for additional posseability of the completed model.
The instruction booklet has the standard exploded-view assembly pictures, with a few pages of color reference pictures, including the painting guide. The text is all in Japanese but it should not present a problem. Both the box art and the pictures from the instructions can be used as painting references.