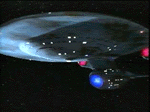 USS Enterprise NCC-1701-C (Ambassador-class) -ST:TNG ("Yesterday's Enterprise"). Little is known of the early career of this ship. Under the command of Captain Rachel Garret, she was lost in 2344 defending the Klingon outpost at Narendra III from Romulan attack.
The original ship was was later modified and redressed as the Zhukov, Yamaguchi, et al.
Andrew Probert sent this in on the design of the Enterprise-C:
"When Gene decided that the Next Gen Enterprise was to be designated "D", I was compelled to come up with what was between The Movie version and Next Gen, so I came up with the "B" and "C". Having designed the "D" to a length twice that of TMP, I wanted to ramp up to that size, so I established the "B" as a perfected Excelsior Class. Then I placed a side profile of it below the Galaxy Class, at the same scale, with room between the two ships. In that space, I started the "C". I drew lines between important points on both ships, i.e.: saucer, eng-hull, and warp engine boundaries, and then completed the "C" to those proportions. The result was this image. I know you've seen this painting before but you can see where I would have taken it, had I been on the show when the show was written for it. The "Class" (Ambassador) was also from me. It was a class I'd suggested to Gene for the "D" but he wanted something "bigger" like Galaxy, so when the "C" came up, I resubmitted it and it was so named. After I left the show, a miniature of the "C" was needed and it underwent modifications to what was seen on screen. My guess is that Greg Jein changed it but Rick might have had something to do with it too. Rick and I did co-design the Stargazer, however."