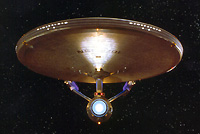 Image: Paramount © 1979

IMAGES:
Image 1: Close-up, top of saucer (name).

Image 2: Starboard side of bridge.

Image 3: Front of bridge.

Image 4: Rear perspective on bridge.

Image 5: Impulse engine, top view.

Image 6: Forward edge of the saucer,
showing docking port.

Image 7: More detailing on the saucer's edge.

Image 8: Underside of saucer.

Image 9: Lower saucer dome.

Image 10: Same as above, but from the side.

Image 11: Hull patterns under "neck".

Image 12: Nav deflector and torpedo launchers.

Image 13: Another look at torpedo launchers.

Image 14: ... and from the other side.

Image 15: Side view, deflector area.

Image 16: Rear of the underside nav dome.

Image 17: Nice, clear view of the rear of the
neck and impulse engines.

Image 18: As above, from an angle. Note the
panel detail on the hull.

Image 19: Neck detail.

Image 20: As above, from the other side.

Image 21: Arboretum windows.

Image 22: Top of secondary hull, between warp nacelle struts.

Image 23: Shuttle bay doors.

Image 24: Side view of shuttle bay.

Image 25: Underneath the fantail.

Image 26: More of the underside of fantail.

Image 27: Top side of warp pylons.

Image 28: Where the pylons meet the hull.

Image 29: Front view of warp nacelle.

Image 30: Front of warp nacelle.


Constitution (refit)-class Starship. The original Constitution class ships, of which USS Enterprise NCC-1701 was one, were extensively upgraded in the 2270's, receiving new systems, new warp drives, and a new bridge module. The original Enterprise was scuttled in 2285 (Star Trek III) to prevent capture by the Klingons. USS Yorktown, then undergoing refit herself, was rechristened Enterprise and assigned the NCC-1701-A registry (Star Trek IV) in 2286. She served until 2293, when she was retired.

The motion picture Enterprise was designed by Mike Minor, Joe Jennings, Andrew Probert, Douglas Trumbull and Harold Michelson. The -A varied only slightly on the exterior, though some sets were redesigned for Star Trek V and VI.

Photos were taken after Star Trek V and are courtesy of Mark Dickson.

Also courtesy of Mark is a great shot of the ship, available in three sizes for computer wallpaper. These images are FREE, not for resale.

Image 31: Looking forward along the front of the nacelle.

Image 32: Front of warp nacelle, from above.

Image 33: Same area, from underneath.

Image 34: Same area, looking back along nacelle top.

Image 35: Rear of nacelle.

Image 36: Inboard side of nacelle.

Image 37: Underside, behind pylons.

Image 38: Rear of nacelle. Note detailing.

Image 39: Same general area, from an angle.

Image 40: Other side. Note panelling.

Image 41: Side view, port side.

Image 42: Side view, starboard side.

Image 43: Head on.

Image 44: Under the saucer.

Image 45: Topside.

Image 46: Starboard quarter.

Image 47: Port quarter.

Image 48: Same side, lower angle.

Image 49: Rear view, between nacelles.

Image 50: Behind and above.

Image 51: Behind and below.