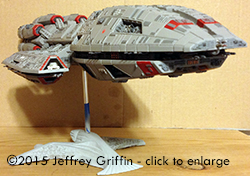 Battlestar Triton by Jeffrey Griffin
"There are those who believe that life here began out there, far across the universe, with humans who may have been the forefathers of the Egyptians. Or the Toltecs. Or the Mayans. Some believe there may be brothers of man who even now fight to survive . . . somewhere beyond the heavens."
With these words the TV show "Battlestar Galactica" began, promising another episode full of fun, adventure, and a bit of cheesy drama. The series was one of the more successful Sci-Fi TV shows of the 70s, and despite the cardboard characters and linear plots, it was enjoyed by children and adults alike. Most of the episodes were full of fast-paced action, from fire-fights in the corridors of the character's base-ship Galactica and in the pitilessly-cold vacuum of space between the Colonial Viper starfighters and the Cylon's deadly Raiders , to plots revolving around such things as fires near the fuel cells and life-support failures. All in all it was a good show, but the centerpiece was clearly the huge, nautical-mile-long battlestar named Galactica.
Though the show was cancelled after one season, it could not die, and has been resurrected in the form of the (best forgotten) Galactica: 1980 series, which lasted a partial season, and 2003's re-imagined series from cable network SciFi, which lasted 4 seasons.
(thanks to Tyler Robbins for that intro).