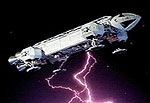 IMAGES:

Image 1: Side view. The landing pads are tilted backward due to gravity (the picture's rotated 90 degrees).
Image 2: Front view.
Image 3: Bottom view.
Image 4: Back view, looking straight into the engine bells.
Image 5: A crisp look at a 44" transporter Eagle with the Command Module removed.
The most common flavor of Eagle pod was the Transporter. Space:1999 lore goes on to say there were Passenger, Recon, VIP, and Rescue pods, but all of these are (for modeling purposes) just the standard Transporter pod - sometimes painted with different markings, such as red stripes for the Rescue pod.
---
The images below are of a 44" Eagle reproduction built by Martin Bower, with several pieces obtained from Phil Rae and D. Meddings. While not an authoritative reference for paint/markings, especially since only the command pod may actually have been filmed, it does provide excellent detail references for the modeler. Images courtesy of Darren Peters.
Image 6: Close-up, engine structures.
Image 7: Top/side, looking back toward the engine assembly. The square, ridged surface detail visible on the forward landing pod was not seen on the studio models.
Image 8: Close-up, command pod (left side). This has apparently been puttied and repainted since used to film a crash scene.
Image 9: Close-up, inside main engine bells.
Image 10: Side view, entire model.
Image 11: Transport module.
Image 12: Close-up, inside the "cage". The flat, circular baffle-like structure at the bottom of the picture was not seen on studio models. In it's place was a flat disk, which can be seen in Image 7.