The Japanese, more than anyone else, have a long-running fascination with mecha; the long list of anime, manga and even live-action shows over the years proves it. Notable examples include:
Patlabor: Mobile Police Force. A mostly light-hearted, near-future (late 1990's, though the show was created in the late eighties) drama revolving around a special division (SV-2, for "Special Vehicles Section Number Two") of the Toyko police. In Patlabor's 1990's, we have developed large utility robots to help us in areas like heavy construction. The series' premise has it that with the introduction of these giant work machines, called "Labors", came the abuse of their technology for criminal purposes. Thus "Patlabors" (a contraction of "Patrol Labors") were developed to deal with these abuses. The show was one of the first to transition successfully from OVA to TV (an eventual 47 episodes were made) and thence to the big screen.
Neon Genesis: Evangelion. To the casual eye, this series may seem like fairly typical Japanese giant robot fare. However, watch a few episodes with your braincells engaged and you'll find it to be a complex tale, rich in mystery and metaphor. The 26-episode story is a worthy peer of epics like Babylon-5 or The Prisoner, in the way it plays with imagery, religious iconography, archetypes, and epic storytelling. The mechs are pretty darn impressive as well - a departure from the heroic humanoid Gundam/Patlabor/VOTOMS style so prevalent in Japanese anime.
Robotech is the series which introduced America to Japanese animé in 1985. Three series with independent stories- Macross, Southern Cross, and Mospeada - were combined to form one story line chronicling the events of three generations defending the Earth with their transformable mecha. Certain plot elements and original names were changed from the originals; ie "Genesis Climber Mospeada" became Robotech: New Generation, and the "Legioss" mecha became "Alpha".
The early eighties anime Armored Troopers VOTOMS featured squat, utilitarian designsthat were a departure from the ornate, anthroporphically heroic designs of Mobile Suit Gundam. It may be this aspect that has given these designs a lasting influence, serving as springboard for other mechs, including those of the Heavy Gear® universe.
References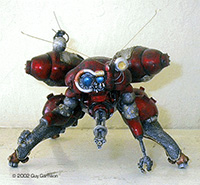 ^ Guy Garrisson's Fuchikoma (from Ghost in the Shell) in the Reader's Gallery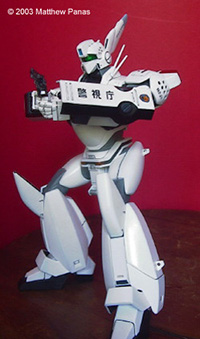 ^ Matthew Panas' Ingram (from Patlabor) in the Reader's Gallery