USS Voyager, NCC-74656, was one of Starfleet's first ships in a new class. Small, sleek, and fast, these ships are well armed for their size. They are also outfitted with advanced computer systems, in which some traditional optical processors are relaced by bio-neural circuitry. The ships are small enough that they could land if necessary on class M planets, and outfitted with specialized gear to make that possible. Voyager was apparently lost in 2371 while pursuing a Maquis ship in the Badlands. Unknown to Starfleet, both ships were violently propelled seventy thousand lightyears into the Delta Quadrant. With the surviving crew of both ships on board, Voyager began the long trip back shortly therafter.

Star Trek:Voyager was an attempt to return to what many fans liked best about the Trek shows - a starship crew exploring new and different places and problems every week. The show gave a twist to that format, with the premise that Voyager and crew were all alone and very far from home. This has enabled the producers and writers to introduce many new races - with mixed results, however. The Kazons, Vidians, and others never earned much appreciation from the fans, as the Cardassians, Bajorans, Jem'Hadar and Founders did in other series. As a result, familiar faces like the Borg and Q were brought back (with better results).

Starships and space-going craft, aside from Voyager herself and her shuttles, are less prominent elements of this show than in DS9. Very few familiar designs have been seen, aside from the Borg Cubes. New ship designs have been quite different from previous series, especially since Foundation Imaging began doing the CGI.

The sections below are divided up by ship type and grouped by alliance. All renders are courtesy of "Friends of the Alliance"; other photographs are courtesy of individuals, as noted. These images may not be reproduced or redistributed/reposted by any means ... so don't even ask.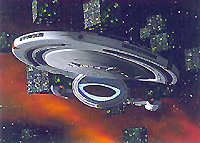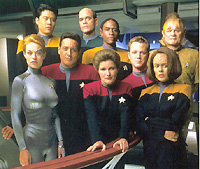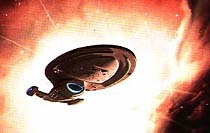 Images: TM & COPYRIGHT 1997 - 1999 BY PARAMOUNT PICTURES Corporation.