Sci-Fi and Spacecraft Hobby News
Hot off the presses - the following is the latest scoop we've been able to uncover. If you know something we don't, drop us a line and let us in on the secret! This page may take a longer time to load than others on the site. Wherever possible, we try to get you images to accompany our news to show you what's happening on the sci-fi/real space modeling horizon.
You can visit the Universal Currency Converter™ site to see how much the price of something listed here is in your local currency.
Please note: Appearance of a news release on this page does not constitute an endorsement of either the product or the company listed. We endeavor to ensure that only reputable companies/individuals are listed, but there are too many companies and available products for us to have personal experience with all of them. We reserve the right to refuse postings from companies/individuals for any reason. Please direct questions, concerns or complaints to the Starship Modeler staff.
Stop the Presses!
PLANNED OCTOBER/ NOVEMBER 2016 RELEASES FROM ROUND2
Round2 have an ambitious schedule of kits and accessories projected for release in mid-October through November, 2016. These include:
1/1000 Excelsior Aztec Decal Set: Sized to fit the re-tooled NX/NCC-2000 Excelsior model released in September, these three sets printed by Cartograf provide all the panel detail of the original filming miniature. The set also includes markings, pennants and numbers for the U.S.S. Hood, U.S.S. Valley Forge and U.S.S. Melbourne, plus two different colors of "strongback" markings. MSRP is expected to be $32.95USD. As of this writing, these decals are shipping from distributors.
1/350 TOS Enterprise Smooth Saucer: Smooth Upper and Lower saucer halves for the 1/350 NCC-1701 (POL-880) kit. This is a direct replacement for the parts with engraved "deflector grid" in the original kit. Includes a paper template to assist the modeler in applying their own grid lines and marking decals, plus "rust ring" decals are included to assist the modeler. MSRP is expected to be $42.95USD, with release towards the end of October.
1/48 ''Tomorrow is Yesterday'' F-104C Starfighter: This is a re-issue of MPC's older F-104C kit with new decals for the aircraft seen in the episode. Full weapons load and a miniature USS Enterprise kit (undoubtedly the 1/2500 kit plastic from the 3-Enterprise set) are also included. MSRP is expected to be $29.95USD, with release in November.
1/1400 USS Enterprise NCC-1701D: The classic TNG kit is coming back. It will be molded in clear and have the now-standard dome base with steel support rod. MSRP is expected to be $47.95USD, with release in November.
Also coming is a set of four sheets of Aztec decals for the ship. Printed by Cartograf, these will replicate the paint scheme seen in the "Star Trek: Generations" movie. MSRP is expected to be $42.95USD, with release in November or December.
Finally, the big 1/350 USS Enterprise from the Original Series will be making a comeback to celebrate the 50th Anniversary of the series. This version will include the smooth upper/lower saucer parts, as well as an updated painting guide. MSRP is expected to be $166.95USD, with release in November or December.
10/2016

Image: F-104 Starfighter Details
Image: Enterprise-D Dtails
Image: Smooth TOS Enterprise Details
---
Spaceships: An Illustrated History of the Real and the Imagined is a new book by Ron Miller that will inspire any imaginative scale modeler. Miller takes readers on a visual journey through the history of the spaceship both in our collective imagination and in reality with vivid illustrations that trace the spaceship through its conception, engineering, and building, from the practical origins of spaceflight in the wartime V-2 rocket to future Mars programs. Hardcover, 256 pages, ISBN: 1588345777, available from your favorite local bookseller or Amazon.
10/2016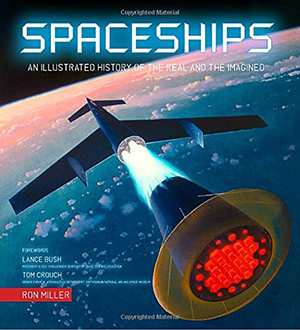 ---
SW: ROGUE ONE MODELS FROM REVELL
Revell (USA) will be releasing 3 new-tool kits from the forthcoming Star Wars: Rogue One movie, as well as reissuing the "Jedi Stardestroyer" (aka Venator).
The three new kits are all Skill Level 2, pre-painted, snap-together "Build & Play" models with lights and sound chip. They are:
1/4000 Imperial Star Destroyer - Roughly 16"/ 406mm long when built, with moveable turbolaser turrets, lighted engines and a display stand. Expected price ~$35 US
1/100 Imperial AT-ACT Cargo Walker - Lighted command pod, positionable legs, feet and command pod (This is not a repop of the Revell Germany At-AT from a few years back). Expected price ~$25 US
1/100 Rebel U-Wing - Lighted cockpit with 2 pilot figures. Wings may be positioned in ''flight'' or ''hyperdrive'' modes. Landing gear is removable. Expected price ~$25 US
We have no exact ETA onwhen these will be on shelves, though if they follow the same schedule as with the previous Star Wars The Force Awakens kits, it should be a month or so before the movie airs (so late September/October 2016).
09/2016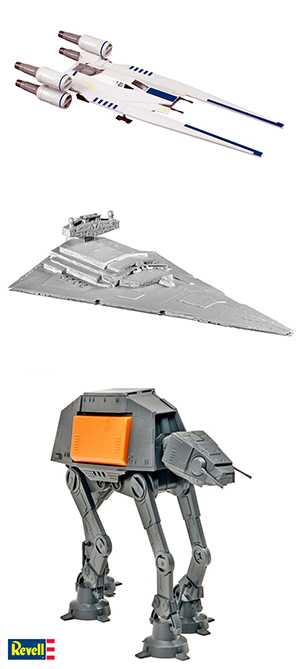 Image: U-Wing
Image: Star Destroyer
Image: AT-ACT
---
UPCOMING MOEBIUS TUMBLER & BATWING KITS
Moebius have released images of two of their next kits, a Tumbler with Bane from the Dark Knight Trilogy and Batwing from Batman vs Superman.
The 1/25 Tumbler is a reprise of their previous DKT vehicle, with parts to build the armed prototypes that Bane steals at the start of the third movie (it may also be built as the black Batmobile from the first two movies). An in-scale figure of Bane is included.
The 1/25 Batwing will feature adjustable wings for in-flight or landing modes.
We have no information on expected release date or price for either of these models as yet.
09/2016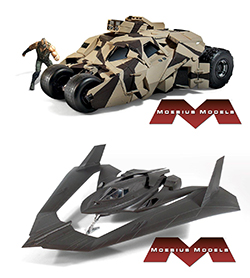 Image: Larger image of the Tumbler
Image: Larger image of the Batwing
---
PEGASUS MOONLANDER & OTHER KITS ON THE WAY
Pegasus have announced three new kits in the works. The first is a 1/350 'Moonlander', based on Werner von Braun's 1952 proposal for a 50-man (!) expedition to the Moon. (Fascinating stuff). The model will have parts for the cargo and 'passenger' versions, and will stand roughly 10"/ 250mm tall when built. No release date has been announced, but the second round of test shots have been approved as of this writing. There is no information price yet.
Also in the pipeline is a 1/350 scale War of the Worlds (2005 movie) "Tripod Attack" diorama. This will include two war machines, 'heat rays' in translucent plastic, damaged building and scenic base. No release date or expected cost is yet available for this kit.
A 1/144 Rocketship X-M from the movie of the same name is also in the works.
09/2016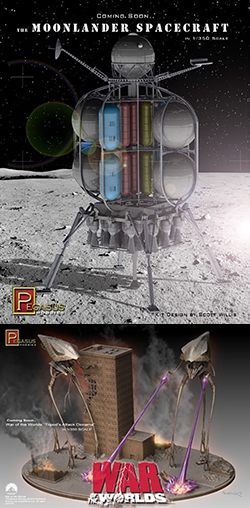 Image: Lander test shot via John Koenig/Facebook
Image: WotW Diorama
Image: Rocketship X-M
---
WAVE TO REISSUE 1/20 GLADIATOR IN WINTERMUTE SET
Fans of Wave's 1/20 Maschinen Krieger Gladiator who missed out on the kit's brief availability earlier this year are in luck. Wave will re-issue the kit later this year as part of a 1/20 'Wintermute' set. This collection of kits includes the S.A.F.S. Snowman, Gladiator (Early Type Winter Specification) and a scale Mechanic figure. Interestingly, it appears the mechanic will have an optional Santa Claus beard. Release is scheduled for December, 2016.
08/2016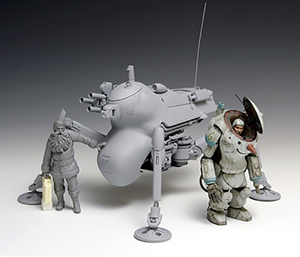 Image: Mechanic
Image: Gladiator & SAFS
---
FINE MOLDS TO RELEASE TIGER MOTH KIT
Fine Molds' have announced a new kit of the Tiger Moth pirate ship from the 1986 Ghibli film Laputa: Castle in the Sky. The snap-fit kit, scheduled for release in late December, 2016, will be about 7½in long x 8 in wide (19.2cm long, 20.6cm wide). A display base, model of the flappter, and a 1/12-scale unpainted figure of Captain Dola will also be included.
08/2016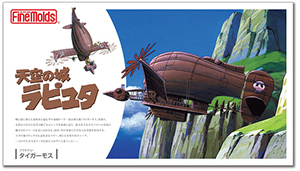 ---
RETRIEVER ROCKET COMING FROM GLENCOE
Glencoe have announced the imminent reissue of their much sought-after 1/72 Retriever Rocket kit. It was originally issued in the late '50s and reissued only once in the '90s. Slated for late-August, 2016 release, the kit will come molded in white and clear plastic, and feature a detachable one-man 'bottle suit' with scale figure, stand and decals by Scalemaster. This issue will also have new box art from Famous Space illustrator Ron Miller.
Check out Fantastic Plastic's Virtual Museum for more details on the model.
08/2016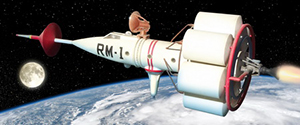 ---
MOEBIUS ANNOUNCES STAR TREK & OTHER LICENSES
Moebius Models announced that they have acquired a license to produce kits from the new Star Trek films. This includes all ships in the three movies (so far) of the ''Kelvin universe''. No subjects or release dates have been announced.
Moebius have also acquired the license to 2001: A Space Odyssey. Their Moonbus and Orion kits will be reissued; no further plans for the line have yet been revealed.
08/2016
---
ROUND 2 ANNOUNCES STAR TREK RELASES FOR 2016
Due out in Dec 2016 or early 2017 -- 1/2500 Star Trek U.S.S. Enterprise Box Set - Snap. (AMT954) Set includes 7 snap-together kits:
NX-01 Enterprise (all new kit)
U.S.S. Enterprise NCC-1701 (TOS)
U.S.S. Enterprise NCC-1701-A
U.S.S. Enterprise NCC-1701-B
U.S.S. Enterprise NCC-1701-C
U.S.S. Enterprise NCC-1701-D
U.S.S. Enterprise NCC-1701-E
and features ''pressure sensitive decals'' featuring aztec panel details. ''Requires minimal painting to achieve a great look'', says R2. No images or other info have yet been released.
Other forthcoming releases:
1/2500 Star Trek U.S.S. Enterprise 1701-D Aztec Decals (4th quarter 2016)
1/350 Star Trek TOS U.S.S. Enterprise Pilot Parts Pack - Reissue (Dec 2016 or early 2017)
08/2016
---
---

Go back up | Starship Modeler Home | Site Map | Feedback
This page made possible byStarship Modeler - &copy 1997-2016.
Scripts last updated on 16 August 2016.