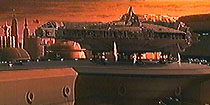 IMAGES:
Image 1: Underside rear starboard quarter.

Image 2: Forward starboard side view (cockpit area).

Image 3: Rear, port upper surface - open panels.

Image 4: Port cargo mandible upper surface.

Image 5: Looking in towards both mandibles.

Image 6: Another view of the port mandible, upper surface.

Image 7: Rear, starboard upper surface - open panels.

Image 8: Upper quad laser, side view.

Image 9: Upper quad laser, back view.

Image 10: Full-on front view.

Image 11: Upper engine area.

Image 12: View of the starboard docking ring from slightly above.

Image 13: Underside starboard docking ring.

Image 14: Overall top view. Most people don't know that the large falcon model had 5 champion spark plug decals radomly placed on the top of the model.

Image 15: Front underside.

Image 16: Cockpit close-up.

Image 17: Back of main sensor rectenna.

Image 18: Damage aft of dish.

Image 19: Damage just inboard of starboard mandible.

Image 20: A good, close look at the cockpit.

Image 21: Another look at the docking clamp, this time head on.

Image 22: Another look at the upper rear panel detail.

Image 23: A view of the quad cannon mount from the other side.

Image 24: Overlooking the bow from the port side.

Image 25: Detailing along the mandible, forward of the cockpit.


Han Solo's battered old YT-1300 freighter is certainly one of the series' biggest hardware stars. Heavily modified since its emergence from the shipyards, the Falcon has served as a steed for a number of smuggler captains. The two most recent are Lando Calrissian and Han Solo. Through Solo's clever tweaking - not to mention filling the engine compartment to overflowing by applying a hyperdrive twice the size of the stock spec - the Falcon became known as one of the fastest smugglers in the galaxy.

In addition to its overblown drive system, the Falcon features an enhanced weapons array, including ventral and dorsal quad laser cannons, a small antipersonnel blaster, and a rack of concussion missiles. The ship also has a series of hidden compartments designed for carrying contraband. Solo was drawn into the Rebel cause after he was hired to shuttle Obi Wan Kenobi and Luke Skywalker to Alderaan for a rescue mission.

The Falcon model on display at the Smithsonian was quite large. While it was the last thing you saw on the tour, the impact of seeing this icon was not at all lessened by the plethora of Star Wars artifacts seen before it. This model is very large (about 5' across) and deliciously detailed. It was housed in a low glass case, so it was difficult to get the shot one wanted without glare. Still, we managed to shoot this glorious model from a number of angles and zoom in for some key detail shots. You may note some unusual glowing strips in some of the photos. The model was adorned with an odd pattern of Scotchbright tape strips, which only showed up during flash photography.

Bob Keyes' photographs were photographed at the Toledo Museum of Art in December, 2001


Image 26: As above, closer to the cockpit.

Image 27: A good, sharp shot of the bow

Image 28: Upper rear decking.

Image 29: Another look at the top/rear deck

Image 30: Port side

Image 31: Bow on

Image 32: With smaller model

Image 33: Top view

Image 34: Mandible, underside

Image 35: Cockpit, closeup



Chicago Museum Of Science & Industry, October 2007

Image: Rear deck, showing grilles. This the larger ESB version.



Image: Right/rear sidewall detail



Image: Cockpit



Image: From front, showing the rear wall instruments



Image: Right/front mandible detail



Image: More. There was no apparent 'toe-in' on these mandibles.



Image: Left/front sidewall detail



Image: Amidships



Image: Looking over the top of the hull



Image: Underneath