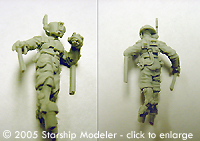 ^ Tau Tank Commander, for the plastic Tau Hammerhead Tank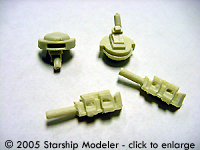 ^ Vehicle add-on parts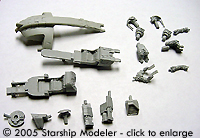 ^ Pathfinder Tetra, with two crew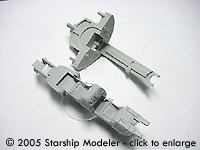 ^ Closer look at the vehicle
Forge World is a subsidiary of Games Workshop that produces resin models and accessories for the Warhammer®, Warhammer 40,000® and BattleFleet Gothic® table-top wargame lines. These kits are intended to supplement the injection-molded wargaming models that the parent company sells. The designs are often pretty funky, and quite a departure from more "mainstream" media types.
The company has an extensive, and ever-expanding, product line. For this preview, I looked at three Warhammer 40,000 Tau sets: Tau Tank Commander (MSRP: £4.00/~$7.63 USD/$9.42 CAD/€ 5.79 EUR), Tau Vehicle Upgrades (MSRP: £3.00/~$5.72 USD/$7.10 CAD/€ 4.34 EUR) and Tau Pathfinder Tetras ( complete kits in the set) (MSRP: £30.00/~$57.27 USD/$71.00 CAD/€ 43.40 EUR).
What You Get
Each item arrived in its own small plastic bag. Aside from a small picture on the label, there are no assembly or painting guides (at least with the sets I bought). There are plenty of images of completed models on the website though, which may be all that's needed. The casting is first rate, with no bubbles or pits, and very little flash. Cleanup should be quite minimal - just scrub to remove mold residue and a few swipes with sanding stick. Detail on all the pieces is top-notch as well. A few engraved lines that could benefit from some gentle rescribing, but that's a minor nit.
The tank commander is one complete piece that is intended to fit in the cupola of the plastic Hammerhead or Devilfish vehicles. He has a couple pour stubs which can be easily removed with a hobby blade. The vehicle upgrades provide decoy launchers and flechette dispensers to add on to the aforementioned armor kits (enough for one vehicle). The Pathfinder Tetra (a small reconnaissance 'speeder') set includes two complete models with their two-Tau crew.
Building these should be painless and fast. All the pieces are thoughfully engineered for easy assembly. Superglue (CA) is the adhesive of choice. Because these are resin, I'd suggest priming the pieces with a lacquer- or enamel-based paint; hobby acrylics tend to scratch off easily when applied directly to the resin - in my experience, anyway (your milage may vary).
If there's a downside to this wholesome modeling bounty, it's the price. The small pieces (tank commander, upgrade set) are about what you'd expect to pay for any similar aftermarket product.