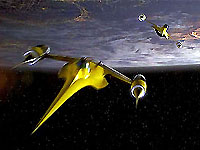 IMAGES:

Image 1: Underneath, from the right/rear

Image 2: Underneath, up front

Image 3: Another look

Image 4: Underneath, center mass

Image 5: Shiny

Image 6: Left/rear view, from below

Image 7: Closer look

Image 8: Under the left engine pod

Image 9: Close-up of the exhaust

Image 10: Underneath, left side

Image 11: Center section

Image 12: Inboard side, under the right engine pod

Image 13: Right/rear view

Image 14: Closer

Image 15: Closer still

Image 16: Right side of cockpit

Image 17: Right engine pod

Image 18: Right/front view

Image 19: Another look

Image 20: Looking down the intake


The Naboo are an old race, much enamored of art and elegance. Their cities, clothing and especially space craft reflect this. The Naboo Starfighter, their most well known starship, is a sleek, slippery, retro-looking design. The N-1 exemplifies the blending of art and function embedded in Naboo technology. It carries a single pilot, assisted by an astromech droid, and is armed with twin blaster cannon and twin torpedo launchers. The chrome plating is purely decorative and symbolizes it's Royal assosiation.
Episode 1 designers had a real challenge. The film is set 30 years before the "original" trilogy, so while their ships needed to look futuristic, they also needed to look as if they pre-dated the familiar X-Wings and TIE/Fighters. Their solution was to adapt the style of the 1930's - 1950's, using smooth lines and flowing shapes.
The full scale mockup used in Episode 1 was 34 feet long, 22 feet wide and 5 feet tall (from the top of R2-D2's "head"). Many thanks to Rick Salemi for the images, which were taken at Boston's Museum of Science in September, 2004.
Image 21: Head-on

Image 22: The topside chrome appears matte

Image 23: Left/front view

Image 24: Looking down the blaster cutout

Image 25: Left engine intake, wing

Image 26: Left/front

Image 27: Cockpit area, left side

Image 28: Again, with flash. Note markings

Image 29: Same area, from behind