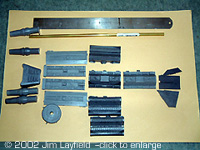 ^ Main resin parts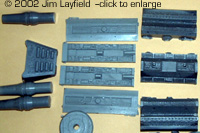 ^ Closer look, forward parts

Image: closer look, parts aft of the rotating section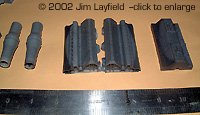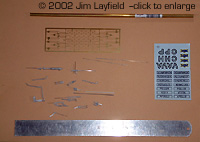 ^ Brass and decals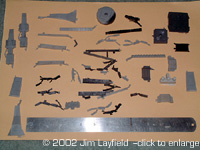 ^ Lots more bits

Image: Instructions are several pages, a mix of text and diagrams
For many years Comet and Lunar Models were the only game in town for resin SF subjects. Comet and their production companies' (Warp, Reshape,and Planet X) products got a little behind in the state of the art in 3 areas:
first, they used polyester resin-and some of my unbuilt kits are still sticky to the touch after 5 years on the shelf.
second, I dont think they degassed the mold silicone,leading to dozens of resin beads on the model.
third, they tended to go for a few large solid pieces, leading to a heavy, un-lightable kit.
The Omega Class Eathforce ship from Babylon 5 changes all this. You get a well-packed, peanut -filled box with:
5 numbered plastic bags containing all parts for each of the 5 major subassemblies,
1 bubble-wrapped bag with all the white metal antenna masts, and
a folded card containing the photoetch fret.
No base is provided but you do get 8 page instructions.

Decals are waterslide, and feature 2 name badges for each of the 7 ship names, 2 large hull pennants (letters) for each ship, and 4 Earth Force insignia.

The parts count- sorry, I got bored at about 80 resin parts, but some small ones are duplicates. The resin is beautiful dark gray, smooth and DRY polyurethane. The individual modules are made mostly from panels which saves weight, and makes space for cable runs so you can put some recessed lighting around the nose, and run some down the central rotation rod to the engines (although these would need drilling out to accomodate wires). There are a vast number of parts including some delicate white metal antenna masts. These and the photoetch girders come well packed individually within the general mass of styrene peanuts and parts baggies. The instructions are very comprehensive, with diagrams for all the subassemblies.

The parts fit seems fine, and the central rotation section moves smoothly around the central brass rod. The pour plugs are quite heavy, and some of the smaller parts have been molded by daisy chaining parts and sprue rather than using a single root sprue, so these will need two ends cleaning up. The instructions are very well illustrated showing parts placement.

One final thing - I see the price went up to £90, which I think knocks 1 off the overall value for money score if you didnt pre-order (mine was pre-ordered at £75).

Its an expensive kit, but its the only one of this subject, and is a fine product.




Many thanks to Jim's wallet for providing the review sample. Manufacturers and retailers, interested in getting your wares reviewed and publicized on a site averaging 4000+ readers a day? Contact us!