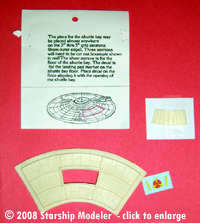 ^ What you get



Image: Back side of the main casting

Image: Opening the saucer took about 20 minutes of scribing

Image: In place

Image: Done


What You Get
Inside the bag are two resin parts, a slab of sheet styrene and a decal. The resin parts consist of a section of the upper saucer with an opening for the shutlles, and a fan-style door. The styrene and decal are for the floor of the bay. Simple instructions are printed on a card stapled to the parts bag.
Casting is nicely done; I found no pinholes, bubbles or other flaws on my sample. The main piece is intended as a drop-fit replacement for a section of the saucer - anywhere between the third and fifth rings engraved onto the model. It is covered with a scribed pattern that matches the later editions of the base kit.
The decals and instructions are very simple - but this is a very simple accessory.
Using It
I have very few Trek kits in my stash anymore, but I do have one AMT refit I've held onto in order to build up as a Dreadnaught conversion. My kit is a "smoothie" - one of the first issues after ST:TMP came out, before AMT went nuts and engraved an utterly fictional panel pattern on it. I think the engraved detail on this, while more restrained, is still too deep and wide. As I intend to fill it all in, I'm not really worried about rescribing anything that gets messed up while I add the shuttlebay..