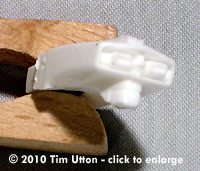 ^ Replacement torpedo launcher

Image: Bridge, compared to kit part

Image: From behind

Image: On the saucer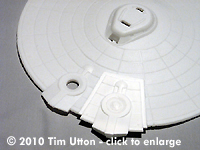 ^ Replacement impulse deck, compared with the kit part

Image: Replacement impulse deck from behind

Image: Decals


While the kit was fairly accurate and built up into an attractive model, the limitations imposed by injection styrene technology and budget resulted in some features being a lot less detailed than was expected.
The bridge assembly was missing detail in the sensor dome, and the "B/C" deck structure was slightly oversized and missing detail. Worst of all, the docking port on the aft of the bridge module was represented only by a decal.
Enter upstart garage kit company Tetryon Parts. Their first product was a replacement bridge and B/C deck intended to address these problems. Just recently, Tetryon added two new products to their line up: an impulse engine assembly, and a torpedo launcher. All three parts are available separately or as a complete "upgrade pack".
What You Get
First up, the bridge module. The Polar Lights parts were characterized by too much detail on some areas, and not enough on others. The Tetryon parts strike the perfect balance for this scale, by eliminating raised panel lines on the sides of the bridge. The small rectangular panels on the B/C deck "indent" are well represented, and most importantly, the docking port and surrounding braces are finally modelled in three dimensions. The overall size of the B/C deck has been adjusted as well, to make its proportions and size more accurate.
The impulse engine assembly has also been meticulously tweaked. The extraneous and out-of- scale details as well as improperly shaped impulse exhausts on the Polar Lights part have been replaced with a single accurate and highly detailed part. The impulse crystal is cast integrally with the part itself, as opposed to the standalone clear styrene piece that comes with the Polar Lights kit. However, this shouldn't present any challenges for modellers who wish to light their build; the impulse engine, like all Tetryon products, is available in either clear or white resin…which, by the way, is sufficiently thin enough to allow light passage if one desires.
Three tiny decals are included with the impulse engine: port and starboard exhaust grills, and a set of panels for the portion of the engine that divides the two exhausts from each other. Details are sharp and beautifully printed. However, modellers should be aware that the engine grills are available in black only at this time. Colour decals would have been a nice option, but considering that they're included with part for free, they're still an excellent deal. Besides, you can always use some clear red, orange, or blue to tint them after they're in place (as I plan to do with mine).