Aztec Panels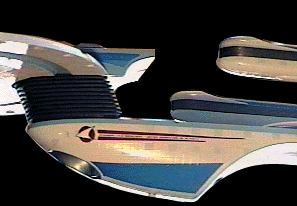 I started by painting the whole model (still in pieces) pearlescent white, then mixed up the pearlescent with a gray blue color. I masked the surface of the model with graphic artist's border tape, found at most graphics art supply stores. Looking at the movies frame by frame until the tape died, I figured out what the the Aztec panels looked like. It's not the same as the one used for the Enterprise-A or -D. After finishing the the saucer section I moved to the fuselage. The trick here is to make it look like all the panels are painted without actually painting all of them. I staggered the panels around the top edge and painted only a few panels on the bottom.
Follow The Painting Instructions
One of the things that I was impressed with was the painting instructions with the exception of Gull Gray. On the production model there was no Gull Gray. Two blues were used instead, a dark blue and a light blue. Other than this little change the paint guide is accurate.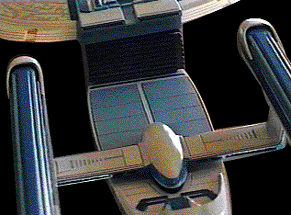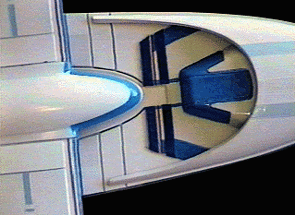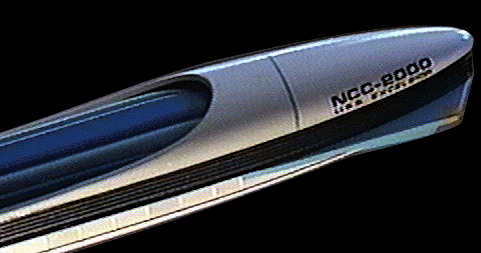 One of the little details I noticed when viewing the movies was a panel line around the top of the warp engine at the back. This piece comes off on the production model, possibly to get at the inner workings. I also put it there in the effort to make the model bigger. All these tricks were used in the building the production model seen in the movies. Production models like the Excelsior were made about eight feet long and even at this size they needed to paint a lot of detail on them to give them the impression of being massive ships.
Stick your neck out
Last but not least I made one major change to the model's structure. The hull neck was very poorly made on the kit. The production model's neck was made from layered pieces of plastic cut in to shape. The kit's neck looked like it was all one piece, and since it was ribbed it would have been to hard to clean up the part lines. I made number of pieces in two sizes (see fig.1). The end result is a lot more impressive and was very easy to do.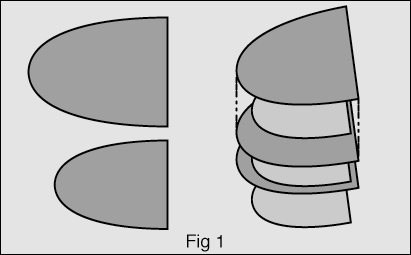 In Closing
I was disappointed in this model over all, I believe a lot of work went into this model to make it accurate. It's too bad the modelers that worked on the master for AMT must have felt let down at it's size. My advice to you is don't put all the work into the model like I did, have fun with it, paint it well, stick it on it's stand and then grab a ruler, measure it and scratch build one for yourself that is bigger.
Remember the most important thing in modeling: have fun or put it down!