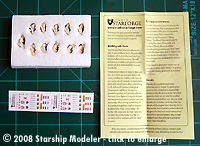 ^ What you get - in the 5 pack



Image: The pilots (with a wash to bring out detail so my camera could capture it)

Image: Another look

Image: Compared to the Y-Wing pilot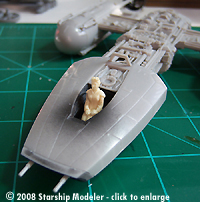 ^ Seated in the FM Y-Wing


The debut release from Studio StarForge is a series of Rebel Pilots inspired by the popular science fiction movie epics. These resin figures, available in packs of five or ten, are ready for painting. Studio StarForge claims they will fit all 1/72 scale fighters - plastic or resin.
There are five individual figures (the ten pack gives you two of each). All are in a conventional (and static) pose with hands in their laps and eyes forward. You get a Mon Calamari, Sullustan, male human in standard flight gear, another in what appears to be cold-weather gear, and a female (not sure the race on this one - could be human or demon). All feature full torsos and upper legs - they are cut off at the knees in order to fit into those ridiculously small cockpits.
Each pack also includes a sheet of waterslide decals for helmets as well as some bonus warning placards and stencils for the model. These look to be laser-printed and have a clear overcoat covering the entire sheet.
Detail on the figures is excellent, and should really pop with careful painting. My samples had no mold seams to clean up. However, all were marred by small bubbles or 'beads', and one of the Mon Cal pilots looks to be a thin skin of resin over a body of froth. Fortunately, the bubbles are in spots that won't really be seen once placed in a cockpit, and they're also easily filled. Because there are no mold seams to clean up, the frothy guy should not be in an issue either - no sanding means no exposing masses of pinholes, after all.
Painting & Placing
The detail on these will really reward the careful painter. Placing them in the models will be a bit of a challenge, though.
Compared to a set of modern US pilots and ground grew from Hasegawa, the figures look "right" in size and proportions. Using my calipers to measure them from seat of the pants to top of the helmet and then scaling up, I get "real" heights of right around 6'1"; even taking the height a helmet adds, these drivers would be on the tall side.