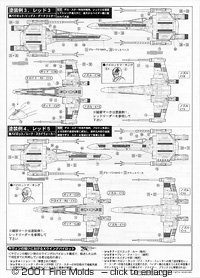 Image: The instructions are all in Japanese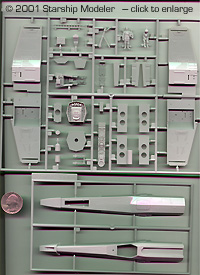 Image: Two identical sprues provide wings, armament and engines
I don't know a sci-fi modeler who hasn't built at least one of the three versions of the fighter that MPC/AMT/ERTL produced over the years. I also don't know many who were completely satisfied with those kits.

Out of the blue, Japan's Fine Molds has come to the rescue, 20+ years after the movie's release. Better late than never, I guess. Finally,a state-of-the-art kit for sci-fi modelers!

What You Get

Inside the box are four sprues of Fine Molds' familiar grey plastic (darker and somewhat softer than what Tamiya and Hasegawa have been using) in two bags, one sprue of clear, marking/painting guide, assembly instructions, and a huge decal sheet.

The plastic parts are finely detailed, with finely engraved or crisply raised details where appropriate. I found no flaws. Even the ejector pin marks were tiny, and where they couldn't be seen when the model is done. The way the kit is engineered you can mate the wings and fuselage, and remove/reinstall the landing gear after painting. That's a help. For those that like such things, the S-foils are movable after assembly.

It's obvious a fan designed this thing from all the options you get:
Detail parts to make either of four different machines (Red 1, 2, 3 and 5 from ANH)
Separate open or closed canopies
Sitting and standing pilot figures
Two droids (R5 and R2) that may be positioned in two ways
Boarding ladder
Decals for each variant, heavily weathered and clean, plus decals for the droids
Instructions and the marking guide are all in Japanese. (Editor's Note: The sheet has now been translated into English by HobbyLink Japan. Download it here.) For most of the assembly, and for decal placement, the diagrams are clear enough. However, all the paint call-outs are in Japanese and there's a chart that tells which parts go with which variant (the fighters of Red Leader, Wedge, Biggs and Luke) and I can't read it (though I'm fairly certain that it goes, from top to bottom: Red 1, Red 2, Red 3, Red 5 because that's how the marking guide is laid out). Still, there's enough reference material available that figuring out the colors should not be difficult.

Is it accurate? As far as I can see, after poring over reference material for two days, yes. There were some very slight detail differences, primarily around the engines, between the studio models used in ANH along with the differences in markings.
Those things appear to have been faithfully reproduced in the kit. There are a few spots (notably in the cockpit) where detail has been simplified a bit. These appear the unavoidable result of the limits of injection molding something this small. Photo-etch could fix this, though that would drive the cost of the kit up.

Assembly and Finish

I've built some of Fine Molds airplane kits and I'm fairly certain what I learned from those holds true for this X-Wing. Fit of the parts is not quite as good as with the latest Tamiya or Hasegawa offerings. There will be seams that need putty and parts that need very careful placement so as not to get out of alignment. That said, I don't expect any great difficulty in building this model.

Conclusions

Well, it's a winner as far as I'm concerned - I only wish it had been available 20 years earlier! If I have any gripes at all it's the size - at 1/72 scale it's a small model. Oh, well - I guess that just means I have room to display more of them that way. I can recommend this kit to anyone but the youngest kid or novice builder.

Jay Chladek has another excellent and informative kit preview here.




Many thanks to my wallet for providing the review sample. Manufacturers and retailers, interested in getting your wares reviewed and publicized on a site averaging 2000+ readers a day? Contact us!