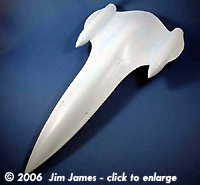 ^ The bulk of the kit is a large, well-cast main hull



Image: Surface scribing

Image: Underside detail

Image: Bear well detail

Image: Instructions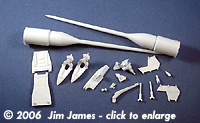 ^ The rest of the parts


Based on the Estes flying rocket kit, mastered by Pat Tomlinson, cast by C.E.D. and issued under Allen Ury's Fantastic Plastic label, the Royal Starship or Queen's Ride is a beautiful kit with no bubbles or voids and minimal flash around the gear and hatch parts. The detail is very sharp and about the only concern I have is that the panel lines are too wide. That said, I feel confident that that "problem" will go away with paint.
What You Get
There are 19 parts - three for each main landing gear, four the front landing gear, six for the hatch which can be displayed extended. The remaining parts are the one-piece main hull and the two finials or pointy things stick out the back. I had always planned to build my model in flight mode and that idea was set in stone with the words on the instructions "the landing gear will not support the ship's weight." There's really no way around this since the hull is solid resin and the glue points on the landing gear are very small. It's recommended that you drill a hole on the underside for "mounting purposes."
Assembly and Paint
The assembly seems well laid out and calls for several holes to be drilled to accommodate the gear legs. Instructions cover assembling gear and hatch doors open or closed - sometimes these parts are not designed to do both. Otherwise assembly is straight forward (especially if you're not going to assemble the ship with the gear down like me!).
Painting instructions are non-existent except for "prime parts with automotive primer or Gunze Mr. Surfacer."