Views of the completed mini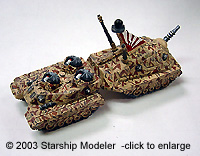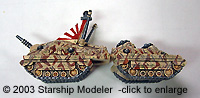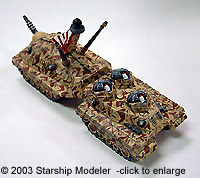 In a world of Ground Effect Vehicle (GEV) hover vehicles, tracked and wheeled vehicles, the Ogre is the 800lb gorilla. Ogres mount enough firepower to shred multiple targets at once, from range or point-blank. The distinctive profile of the Ogre, with its tall sensor tower, is enough to make most units turn tail and run.
The Ogre Mk IV is a radical departure from this ideal. The Mk. IV mounts only one main battery, two secondary artillery pieces and point defense. Its main arsenal, however, are the three missile launchers in its second hull. These are designed to soften or destroy other large targets from quite a distance. Complementing this stand-off weaponry is incredible speed. Only GEVs move faster than the Mk IV, allowing it to maneuver away from main battle tanks or other Ogres. This speed and long-range firepower demands a sacrifice: durability. It is a strike vehicle, not a main battle unit. The game Ogre is conveniently based on points, making balancing that much easier.
Steve Jackson Games is well known in the gaming industry for quick, fun, and very well designed games. Many will know Steve Jackson from G.U.R.P.S., the Generic Universal Role Playing System which was designed to bring real world skills into the game universe, and meld them to other more specific skills. In essence, a person was designed, not a character. In the years since, Steve Jackson Games has blossomed into a good-sized gaming company supporting many different genres.
The Model
The Ogre Mk. IV is a white metal (lead-free pewter) miniature. Fully built, it measures 3½" (9cm) long, 1 5/8" (4cm) tall, and 1 ¼" (3.2cm) wide. It comes as the following parts: front and rear hulls, sensor tower, main gun barrel, two secondary gun barrels, and four track sections. The track sections are identical.
Assembly is straightforward. I did have difficulty aligning the tracks on the hulls, so I filed off the locating pins and eyeballed it. This was fine, the tracks pretty much center on the hulls. Cyanoacrylate glue (CA) is all that is needed to glue the tracks and the guns in place. The two hulls combine with a fairly tenuous joint, and I decided to use 5-minute epoxy for this joint. Some time later this joint failed – the epoxy just popped off the rear hull. However, then I had a large surface area for CA to work. This joint has held since.
Detail is good, more than enough for a miniature. The casting quality is top-notch, with only very fine seam lines to clean up. Overall I am very impressed with the model.
Painting
I used Reaper Miniatures Pro Paints almost exclusively to paint this. The base coat is Caucasian, an aptly named light tan color. Atop this color is a rocky terrain camouflage of Chestnut, Walnut and Olive Green. The camouflage paints were sealed with Future, and the model washed with Gunze Sangyo Smoke (a clear grey). This wash was directed into the recesses and joints, (with special attention to the spaces between the drive wheels), but was applied over the whole mini. After this, the mini was dullcoated with PolyScale Clear Flat.