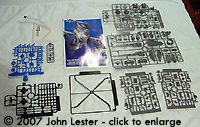 ^ What you get



Image: Detail is very crisp, as seen on the Tachi's body

Image: Engraved detail gives it an anime 'feel' without being excessive

Image: Ready for paint in just over 2 hours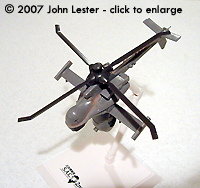 ^ Major subassemblies snapped together

Image: Right side, "stinger" deployed

Image: Front view

Image: Left/rear view


It's the first in Kotobukiya's new Real Mechanical Collection series of plastic model kits - and if it's any example of what's to come, I'm pretty excited!

What You Get

Inside the colorful box are 7 parts trees in blue, grey, white and black plastic, bagged to prevent scratches and keep any parts that may detach in transit from Kotobukiya to you from escaping. Parts are provided for the Jigabachi (in flight or landed), a 1/72 Tachikoma, and a stand/display base to display them together. Tere is a full weapons load for the Jigabachi, including 8 missiles on 2 underwing MERs, and two each of two different rocket pods Also provided is a multi-page, fold out assembly/finishing guide.

Molding quality is what you can expect from a state-of-the-art Japanese manufacturer: sharp detail, no flash and minimal mold seams and sink marks. Panel lines are finely engraved; raised detail is crisply delineated. Subassemblies are thoughtfully engineered so that joins between parts generally fall on panel lines, or are covered by other subassemblies.

The assembly guide consists of 18 exploded diagrams (15 for the helicopter, three for the Tachikoma), a color paint guide and reference drawings/description from the anime. All text is in Japanese - which makes the reference portion kind of moot for us gaijin, but which isn't really a problem for building and painting. The assembly diagrams are very clear and easy to follow, and the paint guide (which looks to have call-outs for Gunze and Tamiya paints) is easy enough to decipher, since it's printed in color.

Assembly and Finish

Assembly is straightforward, and as you can see from the pictures, I as able to have the major sub-assemblies for the Jigabachi together and ready for paint in about 2 hours.