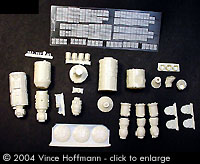 ^ What you get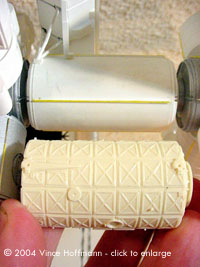 ^Comparing the IMR and RealSpace Destiny modules

Image: Russian modules

Image: Soyuz and Progress vehicles

Image: US modules

Image: Comparing the IMR and RealSpace Unity modules

Image: Instructions
The newest addition to the fine collection of kits currently available from RealSpace Models is a long-awaited set of correctly detailed modules for the International Space Station kit. Although this kit is made for the Intermountain Railway ISS kit, the parts can also be used for the Revell kit.
The Kit
This detail set includes all the pressurized modules presently on orbit with the ISS. Each one is accurately textured and replaces the corresponding modules from the InterMountain ISS kit. Two Soyuz and one Progress are also included. The kit also includes a double-sided photo etched sheet for replacement Russian solar arrays for the modules and the spacecraft.
The parts came packaged in a bubble-wrap baggie, and unloading the parts from the bag revealed a multitude of very beautiful castings. I found very finely cast parts with few defects and excellent detail quality. Small bubbles are found in some areas will be easily repairable with putty, and seam lines are fine enough to remove with a sanding stick. Most of the parts are cast whole with one end left separate and small pour lugs which can be removed with either a hobby knife or razor saw. Upon close inspection of the US module parts, very small pinholes can be seen along the edges, and at first glance they would appear to be air bubble voids, but are actually cable connections and handhold attachment points used by the astronauts.
All of the parts appear to be attached to one another by gluing the exposed surfaces together. This method alone will not be enough to support the weight of the entire assembly once completed. I recommend that each major assembly should be pinned together with short brass or aluminum rods to help bear the weight and prevent joints from breaking.
Attention to Detail
I am very impressed with the quality of work on these parts, and in particular the parts breakdown. Each module is cast separately so the modeler can select and build the kit in a specific chosen level of construction. Each module is correctly textured, depicting the layered metal skin found on the US Modules and the Russian's use of exterior insulation and variety of surface-attached equipment.