By Vince Hoffman © 1999.

The Ariane 5 rocket is the world's newest heavy lift rocket. Conceived in 1987 by the European Space Agency as a replacement for the reliable Ariane 4 rocket, it's the largest civilian-only launch vehicle. The Ariane 5 can launch 20 tons or 4 satelites into any desired Earth orbit.

Heller's representation of this enormous rocket is very good, at least according to my limited resources on this particular subject. Although the rocket has been in use since the mid 90's, there is very little pictoral or graphical information available.here are 3 parts sprues, 2 of which are identical and contain the SRB and main fuselage halves. The third sprue contains all the extra little goodies like exterior electrical conduit and engine vectoring solenoids.

The decal sheet and painting diagram are generic with the ESA logo, flags and the paint scheme found on the first few launches. As with the Ariane 4 missions, the company (whose satelites are being launched) logo is placed on the outside of the payload shroud. Decals for these markings are not present in this kit. So a mission specific rocket needs custom decals. Instructions are pretty basic, but useable.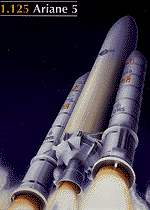 I am very pleased with the quality of this kit. The detail is very crisp with fine scribed lines everywhere. The insulation panels on the main rocket fuselage are appropriately shown. Unlike Heller's Ariane 4 kit, the rocket engines are nicely done, with the engine shrouds coming all the way down around the pumps. The SRB attachment points are accurate, but a little fat. Most of the extra work on this kit will be in the area of the central liquid fuel engine. The shape is correct, but the shrouds are slightly small... an easy fix.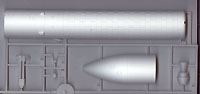 Sprues 1 & 2 (half)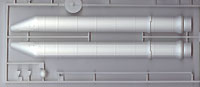 Other half (SRB's)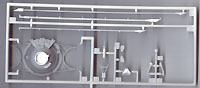 Sprue 3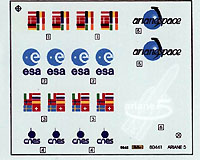 Decals