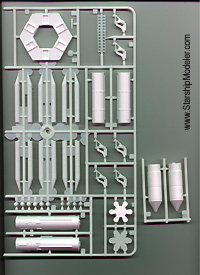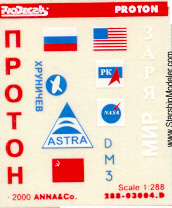 Image: Instructions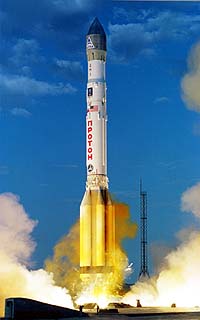 ^ Another successful launch. © 2000 ILS
The Proton booster has served as the primary heavy-lift launch vehicle for Soviet, and now Russian, unmanned space systems since the mid-1960s. It's the largest Russian launch vehicle in operational service and is used to launch Ruissian military and scientific payloads, as well as commercial payloads for companies around the world. As a three-stage vehicle it can launch large space station-type payloads into low earth orbit, and in the four-stage configuration it can launch spacecraft into high energy (geosynchronous transfer, geosynchronous, and interplanetary) trajectories. The latest variant, the Proton-K/Block-DM, is capable of placing approximately 19,760 kg (46,000 lb) into low earth orbit (LEO).
The first Proton test launch of the original two-stage "D" (SL-9) model took place in July 1965. The two-stage D version has been superseded by the three stage D-1 (SL-13) model and the four stage D-1-e (SL-12) model, both of which are still in use. As of September 2000, over 225 Proton vehicles have been launched. The first western commercial mission, the Astra-1F stellite, was successfully launched on April 9, 1996.
What You Get
Following their first releases (four Soviet space shuttle kits in 1/288), Russian model company Start has turned it's attention to the Proton-K satellite launching rockets. There are three versions available: Zarya (the first Russian module for the International Space Station); Astra, and Mir. All are identical, except for the payload section, which comes as two pieces on a separate sprue.
The bulk of the kits are molded on a single sprue of white plastic. There are about 40 parts, including a small base. There is a lot of flash present, though most of it appears to be on the sprue runners, rather than on the parts. Detailing is minimal, but that's expected for a kit in this scale. What little there is looks crisp enough. There are no ejector pin marks or other blemishes to mar the outsides of the parts.
Instructions come on one sheet of paper, with what I assume is a history on one side, and parts list/assembly guide on the other. All the writing is in Russian, but fortunately the assembly steps are clearly layed out in 8 diagrams. Unless you read Russian, you'll have to look elsewhere for painting and marking info. The boxtop looks accurate enough to use as a guide, based on the photos I've seen of the real vehicle.
One small sheet of waterslip decals is provided, containing markings for all three kits. Registration is a little off, but not so much as to make the markings unusable (not like Heller's awful Ariane decals!). They appear thick enough that one should have little problem using them, but I'd be careful using setting solutions/solvents on them.
Assembly & Finish
Assembly should be pretty simple. From what I've heard about Start's earlier kits, however, you'll need that putty and some fresh sanding sticks.
Painting should also be simple enough, as everything but the payload section and engine bells is gloss white. Space Daily has numerous pictures of Proton-K launches to use as reference if you doubt the accuracy of the boxart.
Conclusions
Hey, for five bucks, what's not to like? These kits look simple enough to get done over a weekend, and they're certainly a change of pace from the usual Star Trek and Star Wars kits. Recommended for any skill level of modeler.
Many thanks to my wallet for providing the review sample. Manufacturers and retailers, interested in getting your wares reviewed and publicized on a site averaging 2000+ readers a day? Contact us!