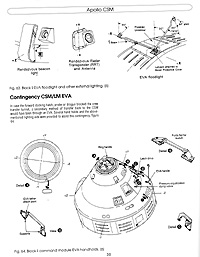 ^ Just about every conceivable detail has a drawing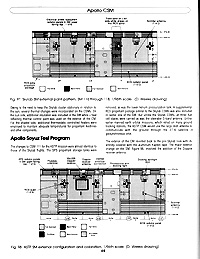 ^ Color and marking callouts are provided for every mission
The book is broken down into eight sections:
North American Aviation's Apollo Spacecraft, which covers the history of the program and provides definitions
Four chapters detailing components: Launch Escape System and Boost Protective Cover, Command Module, Service Module, and Spacecraft/Lunar Module Adaptor
Color and Markings for every Apollo CSM
References and Sources for further study
Modeling the Apollo CSM, with kit reviews of all available kits and accessories, plus a list of manufacturers
The historical sections were written by David Weeks, who also created the numerous drawings that show all of the spacecraft's colors and markings and how they varied from the early Block I vehicles, through the Block II lunar-capable spacecraft, to the variations for Skylab and the Apollo-Soyuz Test Project. Chronological tables of all the Apollo missions, NASA drawings, and Weeks' text explain how the spacecraft evolved over those programs.
The text is liberally interspersed with detail drawings, charts and black & white photos. Literally every aspect of the system is covered, down to the stencilling on the exterior.
The section on modeling the Apollo CSM is as thorough as can be. It includes a detailed review by Karl Dodenhoff of the Monogram 1/32nd scale kit, a list of all kits ever produced of the CSM, plus over twenty kit and accessory reviews. It ends with a list where you can buy reference materials, kits, accessories and necessary model supplies.
Conclusions
What can I say? If you want to build the ultimate accurate Apollo CSM, you need this book. If you want to learn about the evolution of the spacecraft, it's all here.
Highly recommended