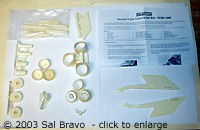 ^ What you get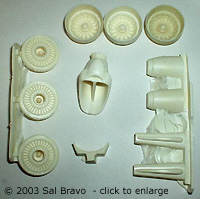 ^ Engine details and nose scoop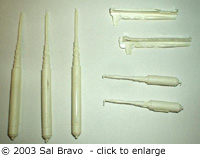 ^ Weaponry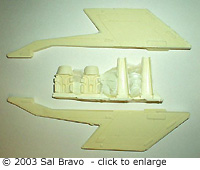 ^ Wings and things



Image: Engine intakes and afterburners

Image: "Warts"

Image: Instructions, page 1

Image: Instructions, page 2
Richard Hatch describes a newly upgraded Viper he calls the Scarlet-Class Viper in his book, Battlestar Galactica: Armageddon. A CG version of the Scarlet Viper was featured in his Battlestar Galactica revival trailer film. It is a heavily armed advanced-technology variant of the standard Colonial Viper. It features upgraded engines and weaponry, advanced computer systems, better maneuverability and increased range, as well as other improvements.
This improved version of the venerable Colonial Viper includes the latest and greatest advancements that a "rag-tag" fleet is able to manufacture with their limited resources. As Steve Parady mentions, the Colonials have a very limited production capability in the fleet, so they would logically want to use as much existing materials and tooling as possible. It wouldn't be practical to create an entirely new space fighter, especially when they have something as good as the Viper already. So the Scarlet Viper is an evolutionary design, not a revolutionary one.
The most visible upgrades on the Scarlet Viper include 5 turbo-laser cannons and engines with "gimbaled" exhaust nozzles for thrust vectoring and augmented maneuverability. The turbo-lasers on the wings are detachable and can be replaced with a variety of weapons and modules (missiles, bombs, ECM and surveillance pods, extra fuel cells, etc.), making the Scarlet Viper a flexible multi-purpose combat spacecraft.
What You Get
The kit consists of 32 urethane resin parts and the instruction sheet. Included are:
3 replacement wings (dorsal, left & right),
3 wingtip turbo-lasers,
2 laser cannons,
1 trio of main atmospheric scoops,
3 gaseous matter intakes,
3 turbo thruster exhaust inserts,
3 turbo thruster nozzle extensions,
2 side scoops,
2 sensor pods,
1 forward atmospheric scoop,
1 filler plug and
8 optional detail parts
The resin parts are reasonably strong and appear clean at first glance, with some easily removed flash on most of them. Upon closer inspection, a few of the parts have tiny pinholes, which should disappear with a coat or two of primer. I also found a smallish bubble where one of the wingtip turbo-lasers joins the wing, which will simply be filled with little epoxy putty.
The instructions are short, clear and to the point. However, I think they need a couple more illustrations on some steps for clarification purposes. The assembly instructions consist of 13 steps plus painting instructions and 2 paint schemes. The box art features three amazing shots of a completed Scarlet Viper, which can also be used as a painting reference.