Ah, well.
I started with the cockpits, painting all the details before fitting them in place. I was stumped on interior colors until Ledon Cook was kind enough to forward me some scans from a book he has. The instrument panels were painted Flat Aircraft Interior Black with red and green details (as usual, all paints I used are Testors Model Master brand). The seat, frame and stick were painted black as well. Seat cushions were painted tan. The gunner's stick should have more knobs and levers, but they would be too small I decided they were more trouble than they were worth to scratchbuild. The interior of the cockpits is shown variously as a black, dark brown or reddish brown - I painted mine a dark, chocolate brown (RLM 61). Before gluing the fuselage halves together, I dipped the clear parts in Future acrylic floor polish to make them shine, and to smooth out some of the distortion in the big "Omu eyes" in the forward cockpit. These I installed with thinned white glue after the Future had dried. Gun barrels were painted steel and glued in place.
The rest of the craft practically fell together. The wings went on with no need for putty. I probably should have inserted the flaps in their slots before gluing the wing halves together, but they were easy enough to (carefully!) bend and slide in position. Wheel wells were painted the same color as the cockpit. I should have probably painted the engine bays this color as well, but the drooping flaps hide this area so I didn't bother. Landing gear was painted with chrome silver (springs), aluminum (oleos), copper (knobs) and main body color (more on this in a minute).
I stuffed toilet tissue in all openings and prepped the model for the base coat. In the story, the Gunships are made from a special ceramic material. To replicate this, I mixed equal parts of Flat Dark Tan and Pactra's Copper, thinned it, and airbrushed the whole model. After this had dried thoroughly, I applied a wash of Field Drab to all the panel lines. I followed this up with airbrushed streaks of Field Drab across the fuselage and wings in the direction of airflow). When all this had dried, I affixed the landing gear with superglue and glued the model to a specially-made wooden base. (Shaped with my bandsaw from 1/2" pine, stained, painted and sealed).
The result is a real head turner - not so much because of any skill on my part, but because of the unique design. This was a fun kit to build and well worth the pittance I paid for it. The Mave should be just as good ....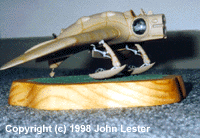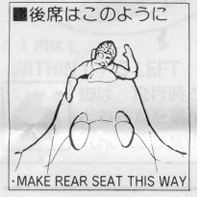 Forget Mito-san!