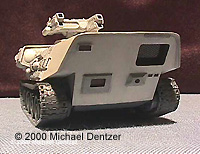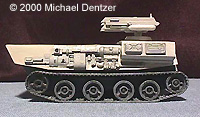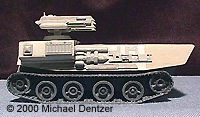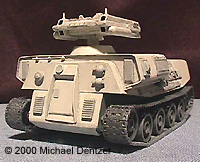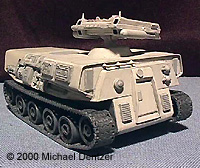 The rocket launcher itself is made from lengths of 1/8in.(3.2mm) Evergreen square tube and detailed with another dip into the parts box. The rear of the tank was the most challenging, not as a building problem, but because of a lack of reference. The original studio model no longer seems to exist, as far as my correspondences with several Gerry Anderson collectors revealed, and is evident on-screen in that the model was blown up during a battle sequence, which it evidently lost. So, the only references to be found, as far as I know, are from screen captured images from the show itself (thanks to Jim Small), none of which show the rear in any detail, mostly in deep shadow. Therefore, this section of the replica is completely speculative on my part.
A paint job with Testors Model Master flats in light, gull, medium and dark ghost grays; panel outlines and accents, as well as a good coating over the tracks, in pencil, and a light wash with Humbrol flat black diluted in alcohol to finish.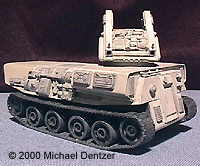 Clockwise, from right: Left rear, showing details of top of launcher; larger picture from front/left showing "greeblies" and revised roadwheels to good effect; two views of the "conjectural" rear of the vehicle; right side, left side and front views; and (top) two closeups showing the wealth of detail that Michel packed into just four inches!