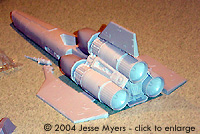 ^ Basic assembly is straightforward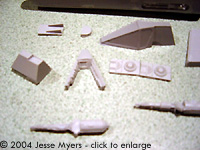 ^ Detail bits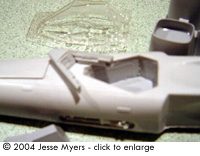 ^ Front office
The next surprising thing was that the kits were really not that accurate. They feature a solid canopy, and raised panel lines amongst other problems. Well, I was determined now to find an affordable kit that I could overcome those problems with.
A quick search of the Starship Modeler site revealed to me the MMI detail kits, that I would need to get...now my model was up over $100...and the MMI kits are not readily available right now. Just when I was getting discouraged I stumbled on Scifi Models.com. I had not done any business with them previously, but the $40 price point was too good to pass up...so I snagged one up...and I could not be happier!
What You Get
The kit consists of 15 resin pieces, a vacuum formed canopy and instructions. The main body is three pieces, and all panel lines have been etched in cleanly. The pieces fit together fairly well right from the box, and only minimal flash was present. There is only one tiny imperfection I can find, a slight indention on the right side of the nose, but it will be easy to putty and sand.
The first thing I noticed about the kit was the sharpness. The viper is covered in cables, wires, and other tiny details...and they are brilliantly clear on this kit. Often times with resin kits some of these details are "smoothed" out...this is not the case on this kit. In fact, it looks as share as the most recent Hasegawa kits I have purchased, very impressive. The cockpit comes pre-opened, with a seat, and control console details. I am told that the MMI pilots will fit inside, so I am still on the lookout for one of them! I do wish there was more cockpit detail, but it is such a small space there is not really a whole lot more that could be seen and it certainly far exceeds the solid cockpit of the plastic model.