Thank you for the effort, Lindberg. It was greatfully appeciated. Now take the money you made and invest in some new talent in model design. This model, like it's cousin the ID4 Alien, was terrible. The fit was bad even compared to models in ERTL's Star Wars line (no slouches themselves in the poor fit department). The effort made by Lindberg to do it was orgasmic. If only Revell/Monogram or ERTL had snagged this license! (Doesn't pull any punches, does he? - Ed.)
Rather than spend days trying to fix the crappy fit, I just slammed the model together. The seams weren't even filled except around the cockpit areas and nose area. The kit was then painted with about 3 random colors of Testors Metallizer paints and metallic colors from their military line. First I masked off the windshield with latex rubber mold builder. I then masked off numerous panels at random and put on a little of each color with my handy-dandy Paashe VL airbrush. I repeated the alternate and random masking as I went, completely masking and and uncovering the entire model 2 times. As each color was put on individual panels, adjacent panels that were left unmasked were misted from different angles to give it that burnt but otherworldly look. After about 2 coats of differing colors on each side I applied both Testors spray gloss AND Testors spray flat randomly from about 3 feet away, trying to keep the two from overlapping. This gives the model a wierd vibe to it that is hard to describe. Next I gave the whole thing a drybrushing with Testors Graphite Metalic Black. This brought out the details that are there, but poorly sculpted and dull looking.
Next I loaded my Badger 150 with Metallizer Stainless Steel and misted the whole model very very lightly from a l o n g way away. I used the Badger because no matter what anyone says, Metalizers destroy airbrushes (and the Badger is my cheap 'beater' brush)! I spray from far away because Metallizers also destroy freshly painted and sealed paint jobs. Testors' Metallizers are Xylene-based and they eat laquer-based paint AND plastic!
The last step was to again spray with barely overlapping coats of alternating clear flat and gloss, then misting from 3 feet away with clear gloss to make the whole thing shimmer.
This whole thing from start to finish took me about 12 hours in one sitting on a Saturday night. Not bad for a $8.00 model that really blows when you look at it in pieces in the box and unpainted.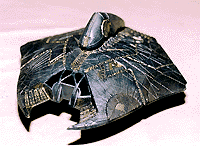 Erin's Attacker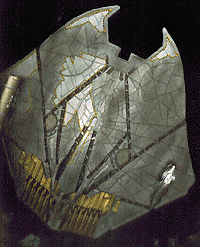 Underside - Joe's Attacker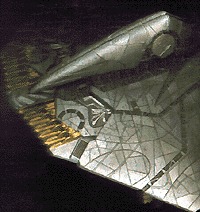 Rear Close-up - Joe's Attacker