Tangents' Eagle Decal Sheet
The decals that come with the AMT/ERTL Eagle are weak, to say the least. Some are inaccurate, some are missing, and others are just plain wrong! Tangents (Jay Adan), with trusty ALPS printer in hand, comes to the rescue with an extensive set of waterslide decals.
The sheet measures 8" x 3" and is full color. It includes all the markings found on the standard Eagle, including revised Moonbase Alpha logos (two colors - teal or dark blue, depending on what season you want to replicate), serial numbers for the mission specific modules, stripes for the spine, markings for the engines, as well as for the landing gear/RCS pods. From what I can tell, he pretty well covered the bases.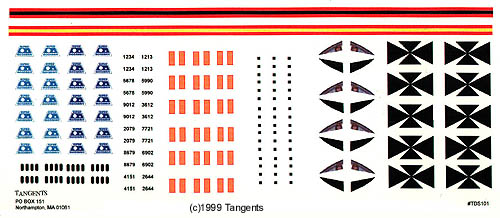 In addition to the basic marking, the sheet gives you decals for the Command Module windows. Not only that, but you have a choice: black windows, or use the decal that shows the interior and crew! While the window decals are kind of cool, I was disappointed that they did not include the light colored window frame, seen on most Eagle pictures.
The only other thing it would have been neat to see is support for the other Space:1999 aftermarket goodies out there, like the various boosters and the SMT's Alpha Laser Defense Tank. You can use the Alpha logos on the laser tank, but they're a bit large.
Being an ALPS printed sheet, the images are all part of one big carrier. You'll need to make sure that you cut the decals as close to the images as possible. I didn't get a chance to do a test application, but I've seen Tangent's sheets at work before. If applied right, the results look painted on. The carrier is very thin. As a result, be sure to soak the decals completely before trying to applying them, and carefully slip them onto the kit to avoid breakage.
If you do have a mishap during application, the sheet provides plenty of extras. Barring accidents, the sheet gives you enough markings for two complete kits (with some goodies left over). Also included are two instructions sheets - one with text that describes markings use and placement, and the other an illustrative placement guide. At only $8 USD (that includes shipping, in North America), this set is certainly a must-have for any serious modeler tackling the subject.