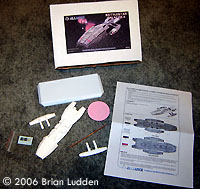 ^ What you get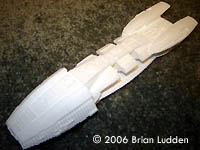 ^ Main hull



Image: Main hull, closer look

Image: Look at that detail!

Image: Hull and flight pods

Image: Detail

Image: Instructions


Within a few days the package arrived, and I greedily opened it. After seeing Coby's master at the (IPMS) Nationals, I wondered if Alliance could mold it in a way to do it justice.
I'm happy to report that they did a great job on it! There are only 3 parts to the ship - the main hull and the two landing bay pods. With these parts you also get a base with a separate Galactica logo that fits into a hole on the base, a brass rod (pilot marks for where to drill are helpfully provided), and a small decal sheet.
The instruction sheet is to the point and calls out the recommended colors in Model Master names.
The parts came with a minimum of flash, and I only had one casting flaw/bubble, right on the end of the bottom port landing bay pod - there is some material there still, hopefully I can work with it easily - but there are 2 main things you need to work on as far as the main hull goes. The first is the bottom part of the ship where the pods retract into. The rib design goes back into it, but the ribs start to skew to the rear and get mushy as the approach the main hull. With the pods open, this area will be visible (and in fact my big photo reference of the Galactica, the poster I got at WF as I was staring at the master) shows what appears to be rust colored plates in there.
The biggest issue came at me after staring at the main hull for a number of minutes - it is unmistakably leaning to the left. It's not a glaring issue for a desktop model, but in a contest it would put you out of competition pretty quickly. Normally I would put the part in hot water and bend it back in line; but I'm not sure how this fairly large and complicated part would react to it. For the time being I am just going to let it go.
The other issue is that the 4 engine pods have no detail at all at the exhaust ports. I get the feeling that these issues are related to how Alliance managed to cast this part up as one piece and get such good detail from it overall. The exhausts clearly are deeply inset into this part, and I'm not sure if I am going to attempt to drill and file (always a crap shoot with resin parts) or cut off the ends and scratchbuild the exhausts.