I've been waiting for this kit for ages. I'm not entirely sure the wait was worth it.
Don't get me wrong - it's not a bad kit, not like some of the shapeless lumps of resin I've slaved over, trying to get something that looks like anything in the B5 universe when I finished. Heck, with less elbow grease than one would pour into an ERTL Enterprise-A one can have a nice little display model, maybe even a contest winner. I just wish it was bigger and more detailed.
The kit comes packaged in the now-standard, flimsy clamshell box - which has at least twice the volume neccessary to hold it's contents. Two sprues of familiar R/M grey styrene are safely ensconced in a plastic bag. A largish decal sheet and 8 page instruction booklet round out the contents. Molding of the 37 parts is crisp and flash free (which is expected; it's a brand-new mold!). Detail consists of very fine raised lines and somewhat blurry "greeblies", which is really sufficient at this scale. The complex hull patterns are to be replicated by decals. At just under 17" the model scales out somewhere around 1/26,000 - close enough to AoG's B5 Wargaming Miniatures (capital ships).
Those who complained ERTL's Enterprise-E kit was too small are not going to like this model. Those who hate R/M's thick, glossy decals will likewise hate the kit. On the plus side, parts fit is excellent - at least what I've seen of it (and I've already glued over half the parts together). You'll need little to no putty, and very little sanding. This one will be a fast build, perfect for a rainy afternoon.
On the minus side:
Solar panel arrays are far too thick, and mine were slighly warped. I'm probably going to carefully cut replacements from the thinnest sheet brass I can find. An extra bonus - painting the brass with transparent blue and black/smoke will look a lot more realistic.
The two pieces comprising the "spine" and the two support arms for the solar arrays are hollow. What I mean is they look like they were stamped in - there's no detail on the reverse sides. For the weekend builder and the kids, this is no big deal. Hard core Sufferers of Advanced Model syndrome (like me) will fill these gaps with styrene. Simple, but tedious.
The supports for the base are molded directly onto the station. This allows the station to rotate (oooh! a "working" model - I feel like I'm six again) but for those who want to ditch the base, it presents a problem. I intend to cut the support arms off the station pieces and run a support rod out the back instead. My model will also have a custom base.
Some detail is either missing or molded directly (and incorrectly) to the surface. For example, There should be four long rail details stretching the length of the neck connecting to the front spherical area, and the "hand" like things on the cobra bays are molded into the surface (Thanks to Mark Dickson for that observation - I missed it)
Decals are what we've come to expect from R/M. They're thick, extremely glossy, and any fine detail the artist so carefully included is mussied and obscured by the silkscreen process. Take a close look at decal #19 - where have we seen that pattern before?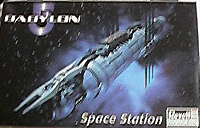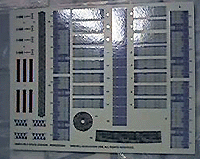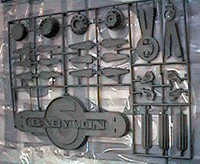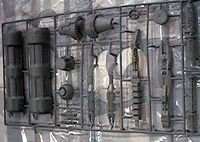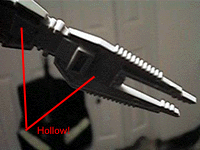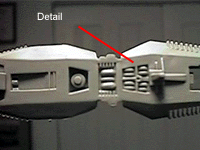 The bottom line: I'm disappointed this is not a better kit. For what it is (a model aimed at kids) it is fairly good though. With a little work, I can make this something I'm not ashamed to see on my shelf - and you can too.
This is just our first look - we'll have a complete build up review of this kit soon.