"It was the dawn of the third age of mankind", in the middle of the twenty-third century. Humans are not alone.
Babylon 5 is the story of the last of the Babylon stations, the result of a project intended to find peaceful ways of resolving conflicts between the various races. Unlike most television series, Babylon 5 is a single story, completely planned out from day one with a beginning, middle, and end. Each episode is enjoyable on its own, but is also a piece of a larger whole, a chapter in a five year long novel for television. The setting of the show is affected by events in each episode -- the status quo isn't neatly restored at the end of the hour. Characters die, are reassigned, or are forever changed by their actions and those of the people around them.
Babylon 5 broke a lot of SF TV conventions, and not just because of the way all shows were interconnected in a 5 year arc. Humans and aliens were depicted in a more gritty, realistic way. Poverty, war, prejudice and disease haven't been eliminated - and beings of all races can be stupid, bigoted and greedy as well as altruistic and enlightened. The show also was one one of the few to pay close attention to the laws of physics as we know them - no swooping, Battle-of-Britain style dogfights here. Other, older races may have cracked the code on artificial gravity, but humans are still using spin and centripetal force to mimic it.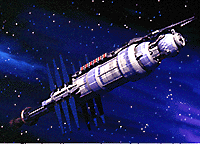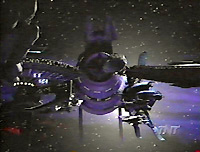 Images:
(Top) © PTEN 1996;
Bottom via TNT, © WB 1997
Starships and space-going craft are a big part of the show, and were just as different and ground-breaking in their own right. From the deadly elegance of the Minbari to the pure evil of the Shadows to the ugly functionality of the Earth Alliance, unique designs reflected the character of the races that operated them. This is probably best illustrated by the Earth Alliance Starfury fighter. A lot of thought went into the design, not only considering how to make it agile and powerful, but how to make it possible for real people to fly it.
The sections below are divided up by ship type and grouped by alliance. All renders are courtesy of "Friends of the Alliance"; cockpit photographs are courtesy of Mark Dickson. These images may not be reproduced or redistributed/reposted by any means ... so don't even ask.
Earth Alliance Hyperion: Craig Clark was kind enough to send us his detailed renders, based on the wireframe he built. [perspective] [five view]