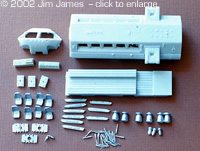 ^ Parts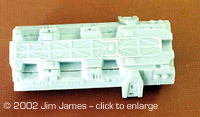 ^ Hull assembly - note the gap between pieces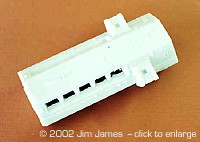 ^Top view

Image: Main hull, side view - note the flash in the windoes

Image: Instructions
What You Get

So what do you get for $100? The kit comes well packaged in a sturdy brown cardboard box with nothing but a color picture of the finished model on it. The one page instruction sheet includes a sentence of advice on building with resin, some building tips, rudimentary painting guide and a photo of the parts. Not much help here.

The resin parts are nicely cast with few bubbles and the metal parts are clean with minor seams. There was a fair amount of flash in the windows but otherwise clean up should be easy.

I calculated the model to be approximately 1/72nd scale which helps since the kit does not come with figures – and it needs them. It does, however come with a pretty good interior which can be assembled after copious research for pictures on the web. I experimented with a figure from an unused Airfix HO scale Astronaut figure set. I left off the backpack and then cut off the space helmet and replaced it with a head from a Hasegawa flight crew set mechanic. The resemblance to a 2001 astronaut is passable. The Airfix set will give me enough figures to staff the Moonbus – including four seated figures.

The kit seems to be designed so that the lower hull with the interior detail can be removed for inspection. However, to do this, Planet X has created a loose joint between the two parts – two very obvious gaps. I'm giving a lot of thought to lighting the interior with Lightsheet and sealing these gaps. At the very least, the hull needs to be sealed up.

Each landing gear comprises 14 pieces with a vague picture of what goes where. However, good photos of finished gear are available (albeit on models) on the web. It looks like the gear will look pretty good when assembled.

Clear styrene sheet is provided for the windows. The side windows are easy and a paper template is provided for the front windshield. The instructions (the only useful ones) assure the modeler that the windshield will snap into place without glue if cut correctly.